May 23 2015
Received emergency call at 7:30pm to watch for flood event

Huge flood on Blanco River that washed out the Fischer Store bridge, caused a rise 50 to 60 feet above normal levels.
Heard and saw many large Bald Cypress trees and others, snapping and breaking loudly in the rising waters.
Lost access to river because steps washed away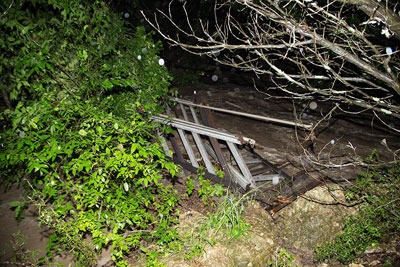 Just a few minutes before, we were standing on the upper landing watching the river rise on the steps, we moved to the bluff trail and then saw the steps floating by in the river flood, at the top of the 50 foot bluff.
The river came up above the rock bluff edge (50 +feet)
Emergency officials were offering evacuations for neighbors who did not want to be stranded with no electricity and trapped by the one way flooded low water crossing which was not passable for 10 days.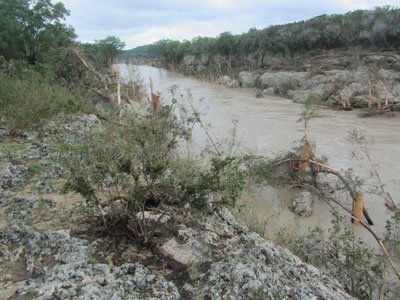 Vulture Gulch after the big flood, the narrow canyon walls caused a loss of most all of the large Cypress, Pecan, Sycamore and other trees. Compare this photo to the Journal entry on May 17, 2015 for perspective.
This entry was posted on Saturday May 23 2015 at 12:00 am and is filed under Census, Habitat, Erosion, 2015 Journal You can follow any responses to this entry through the RSS 2.0 feed.